Immunologist of the Month
Every month we will feature a new interview with an Immunologist. These Immunologists are at the cutting-edge of research and education, they have kindly offered to give us their time and insight into their research and studies.
---
July 2020
Our July Immunologist of the month is Dr Heena Ranchod based at the Centre for Vaccines and Immunology, National Institute for Communicable Diseases in Johannesburg, South Africa. Dr Ranchod completed her BSc at the University of the Witwatersrand, and pursued both completed her post-graduate training at University of Pretoria. Her research focus is on TB immunology. She initially began her research career focusing on antibodies and, has now moved to the field of TB-host immuno-metabolism.
Read more: Dr Ranchod Interview
February 2020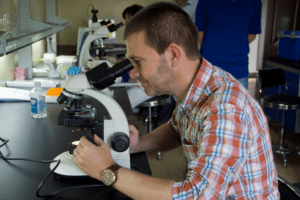 Our February Immunologist of the month is Prof. Magez, a Belgian Professor of immunology, who focuses on parasite-immunology. He currently leads his research teams based at the Ghent University Global Campus in Incheon, South Korea and the Free University of Brussel, Belgium. For the past 30 years he has conducted research on the immunology of Trypanosomiasis. Here, he shares his experience and passion with young immunologists.
Read more: Prof. Magez Interview