Immunology workshops, conferences and courses in Africa for healthcare professionals, researchers and students.
---
October 2019
17th International Congress of Immunology
19-23rd October 2019
Beijing, China
Abstract submission deadline: 20 May
IUIS 2019 is organized by the International Union of Immunological Societies (IUIS), and hosted by the Chinese Society for Immunology (CSI)y for Immunology (CSI).
Key themes: Adaptive immunity, innate immunity, immunology and diseases and interventions.
A variety of travel awards are available.
Apply Now – iuis2019.org
---
October 2019
9th IDA Symposium and Flow Cytometry workshop
7-12th October and 14-18th October
River Club, Mowbray Cape Town and CHIL HVTN
Abstract submission deadline: 30 June
Participants will be accepted based on the scientific merit of their submitted abstracts and completion of a knowledge on-line survey.
Selected participants will be awarded a full scholarship (travel and accommodation) to attend the two events – IDA Symposium and Flow Cytometry course.
Other participants will be awarded a partial scholarship (travel and accommodation) to only attend the IDA Symposium
Apply Now – 9th IDA Symposium
---
October 2019
IUIS-IIS-FIMSA Course
12-16th October 2019
Rajasthan University of Health Sciences, Jaipur, INDIA
Application deadline: 15 May
The course is open to senior PhD scholars, clinicians Post doctorates, young faculty and researchers. Enrolment to the course is on merit. Applications received after due date may not be considered. This is an in-residence' course. Selected participants are expected to stay in RUHS campus for all days of the course.
Submit i) short CV along with full list of publications, ii) an abstract highlighting area of research (less than 200 words), iii) statement of purpose (one page) explaining how will this course benefit your ongoing research, iv) letter of recommendation from your supervisor / Head of the Department. Application must be accompanied by registration fee.
Registration Fee
Indian Participants Rs 5000
Foreign participants USD 100
Please check the IIS website (www.indianimmunology.org) regularly for program updates and further announcements.
Contact: immunojaipur@gmail.com
---
November 2019
IUIS-FAIS-IMMUNO-BENIN 2019
Impact of tropical infections on mother and child immunity
3-10th November 2019
Benin Diaspora Hotel, Ouidah
Abstract submission deadline: 7 June
This 2nd Regional West Africa Immunology course is sponsored by the Volkswagen Foundation and the International Union of Immunological Societies (IUIS) and is open to PhD, MSc, MDs and postdoctoral fellows from Africa (45) and Germany (5).
An interactive forum with international faculty including lectures, discussion groups and grant writing sessions. Immunology of malaria, tuberculosis, HIV and neglected tropical diseases will be discussed with special emphasis on mother and child health in Africa.
All participants will have free access to teaching material via the web-based Immunopaedia platform www.immunopaedia.org.za 6 weeks prior to the course. Each one is expected to become familiar with the material in order to benefit maximally from the course.
Registration will be free for all selected students.
Travel costs and housing will be covered by the sponsors.
Apply Now – Immuno Benin
---
November 2019
The 15th Annual African Vaccinology Course
4-8th November 2019
Cape Town, South Africa
Application Deadline: 19 July
The Annual African Vaccinology Course (AAVC) has been a major success in enhancing vaccinology expertise in Africa. In its 14 years on offer more than 1000 participants have been trained. In 2019, VACFA will conduct the 15th AAVC.
Aims of the 2019 course are to:
Provide participants with essential and up to date knowledge on human vaccines
Discuss the successes, challenges & opportunities to improve immunisation programs in Africa
Provide a forum for members of NITAGs to share national immunisation issues & identify areas for collaboration and technical capacity development
Foster communication & networking among African vaccinologists
Who should attend:
Immunisation program managers & officers
Researchers & public health professionals working in the field of vaccines – immunology, immunisation activities such as policy formulations etc
Postgraduate students & post docs in the field of vaccinology and immunology
Apply now – www.vacfa.uct.ac.za/VACFA_15thAAVC_Flyer
---
Courses
We create and host online courses in partnership with the International Union of Immunological Societies (IUIS) and other bodies. These courses educate and support participants and students before and after Immunology conferences and courses world-wide.
We provide frameworks of knowledge so that participants can fully engage and get the very best out of real-world courses. We also provide lectures, relevant resources and assessment to educate users on all fronts.
8TH INFECTIOUS DISEASES IN AFRICA (IDA) SYMPOSIUM
The River Club, Cape Town, South Africa, 12-17th November 2018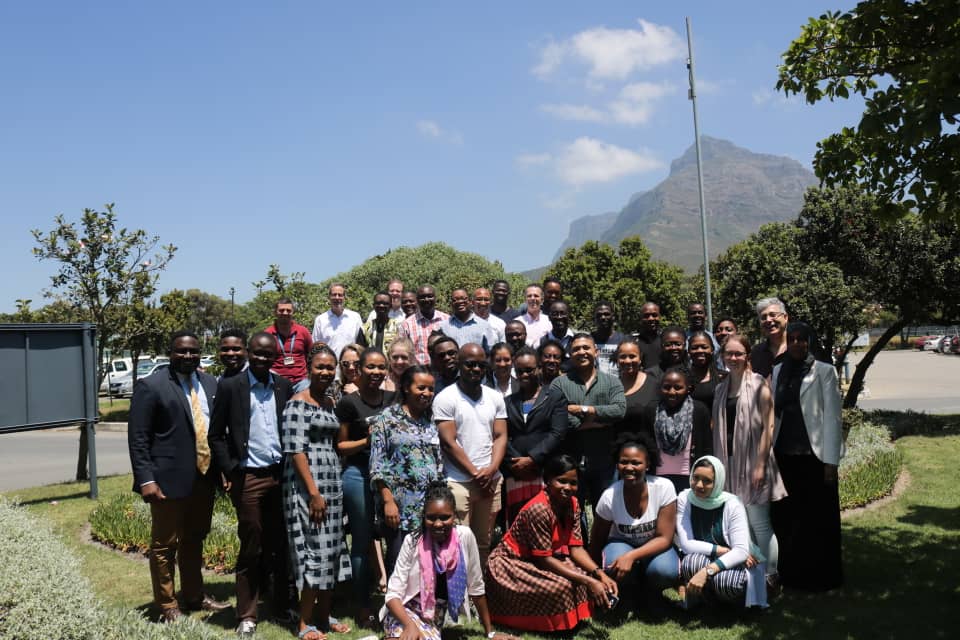 IDA 2018 – Participants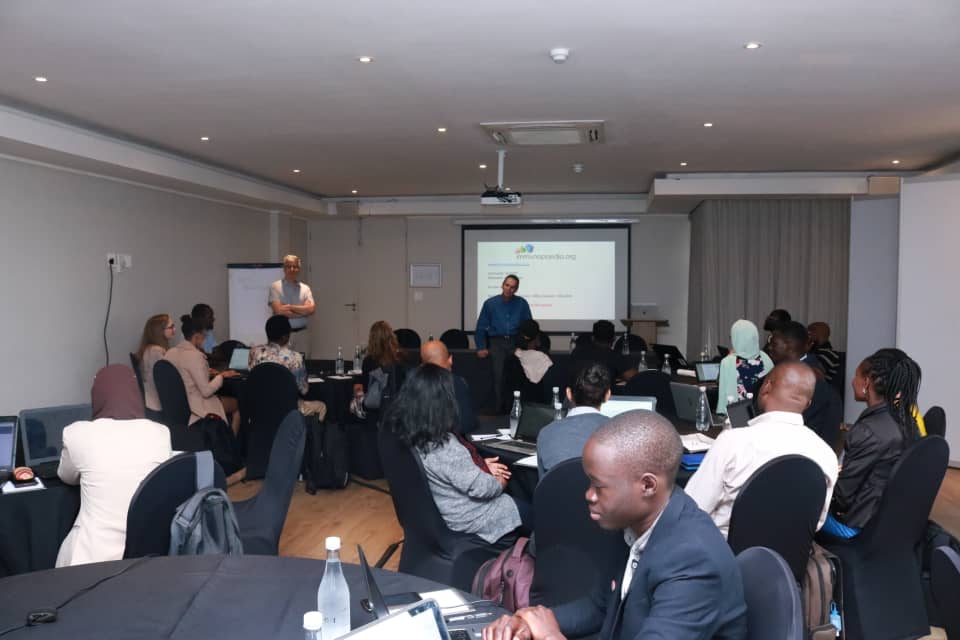 IDA 2018 – Immunopaedia Session
---
IMMUNO-KENYA COURSE
KCB Leadership Center, Nairobi, Kenya, 23-28 September 2018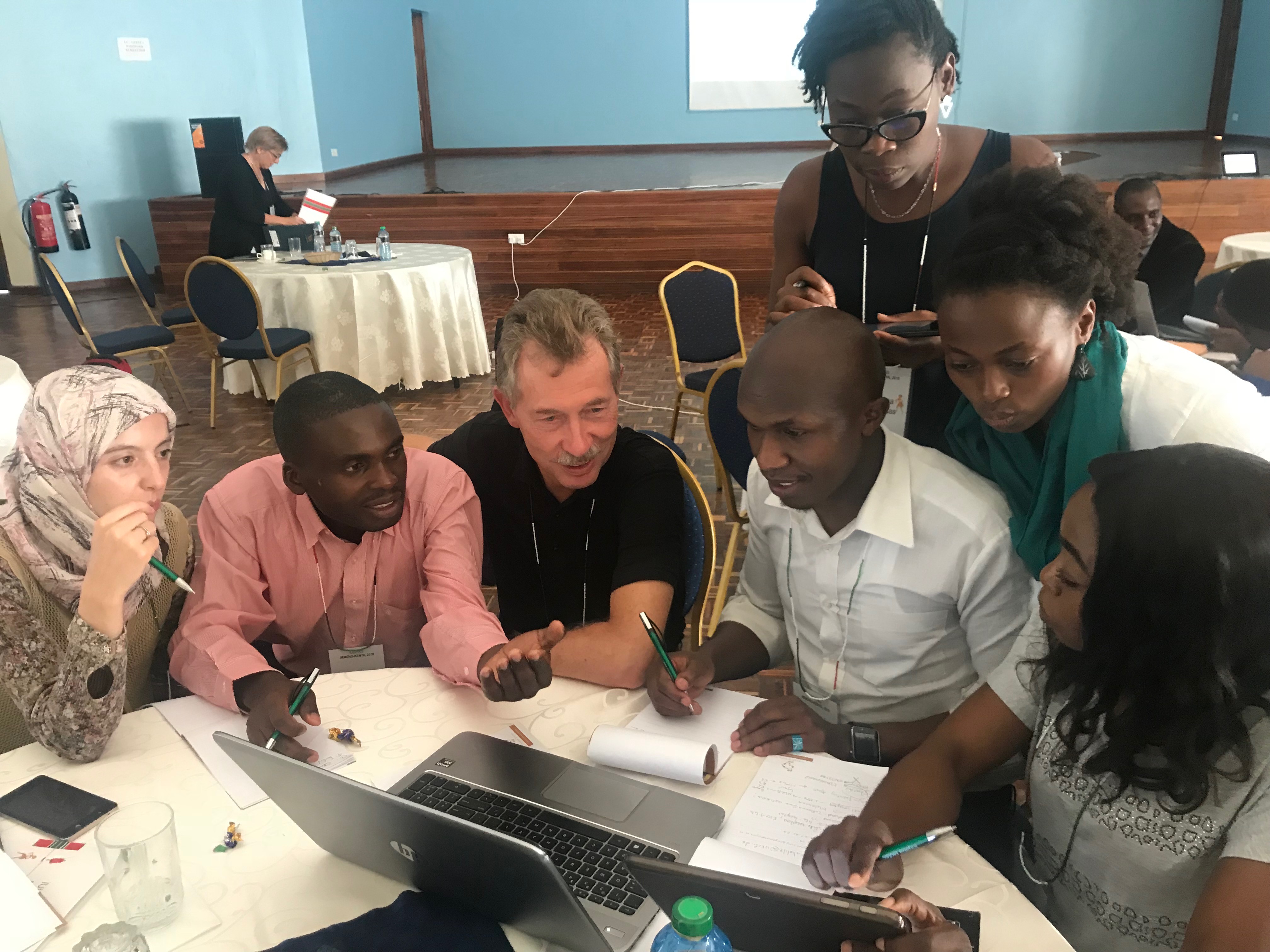 Immuno-Kenya Immunopaedia Session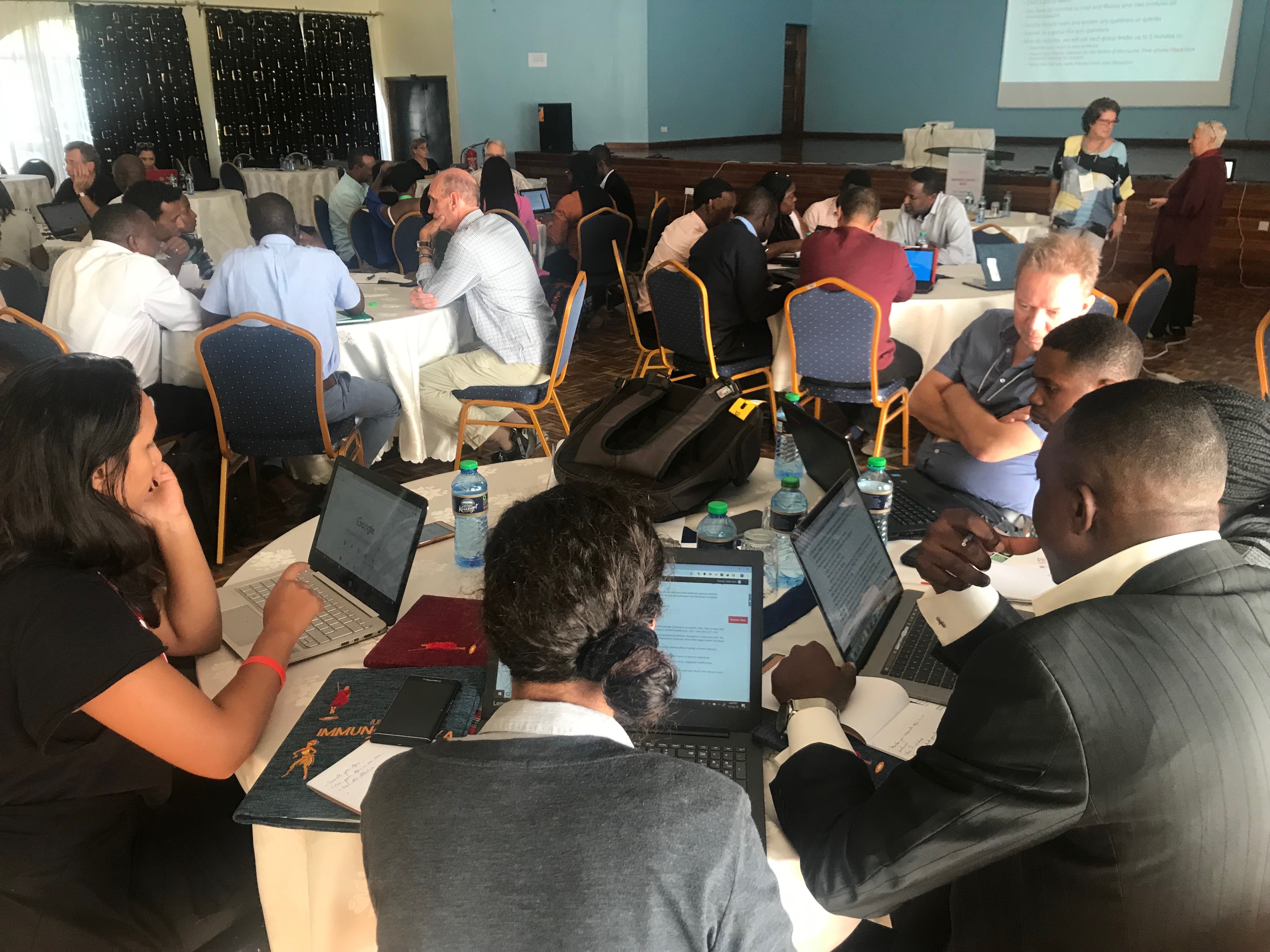 Immuno-Kenya Immunopaedia Session
IMMUNO-MOROCCO COURSE
Hotel Royal Mirage, FES, Morocco, 3-7 April 2018
IUIS-ALAI IMMUNO BRAZIL "ADVANCED COURSE ON VACCINES" 2017
São Paulo, São Paulo, Brazil, 11th – 15th December 2017
13TH ANNUAL AFRICAN VACCINLOGY COURSE (AAVC)
Cape Town, South Africa, 13-17 November 2017
IMMUNO-SOUTH AFRICA 2017 COURSE
Krystal Beach, Gordon's Bay, Cape Town, 1-9 September 2017
IMMUNO-GAMBIA COURSE
MRC Unit Banjul, Gambia, 19-26 November 2016
ONCOIMMUNOLOGY-MEXICO COURSE
San Miguel de Allende, Mexico, 5-8 October 2016
KENBOP3 COURSE
Kilifi, Kenya, 19–24 September 2016 ‌
IUIS-FAIS IMMUNO-TUNISIA COURSE
Hammamet, Tunisia, 4-8 April 2016
IUIS-FAIS-IDA IMMUNO SOUTH AFRICA COURSE
Cape Town, South Africa, 20-24 October 2015
IUIS-ALAI-IMMUNOCOLOMBIA COURSE
Medellin, Columbia, 10-13 October 2015