Immunologist of the Month
Every month we feature a new interview with an Immunologist. These Immunologists are at the cutting-edge of research and education, they have kindly offered to give us their time and insight
---
October 2019
Our October Immunologist of the Month is Associate Professor Jayne Sutherland, Head of the TB Platform and Immunology laboratory at the Medical Research Council (MRC) Unit The Gambia at London School of Health and Tropical Medicine (LSHTM). A/Prof Sutherland completed her Doctoral studies and first (2 years) Post-Doc in Melbourne (Monash University) where her research focused on cancer immunotherapy. She moved to MRC in 2006 as a Post-Doc researcher on a Bill and Melinda Gates foundation project on TB biomarkers, and is now head of the TB division.
Read More: Jayne Sutherland Interview
---
Video Interviews
The Immunopaedia team conducts video interviews of influential immunologists as often as possible. These leading researchers speak to us on a variety of subjects and we record them for posterity.
---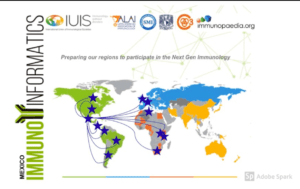 Immunoinformatics 2019 Course Highlight
To prepare regional scientists for the interdisciplinary Next Generation of Immunology, the IUIS EDU Committee, in collaboration with the Latin American Association of Immunology (ALAI) and the Mexican Society of Immunology (SMI), organised a course focused on informatics tools applied to Systems Immunology, a first in Latin America,. With representatives from 8 countries, the IUIS-ALAI-SMI Immunoinformatics Course was held on April 8th-10th, 2019, at the Center of Complexity Sciences of the National Autonomous University of Mexico, in Mexico City.
Watch a now visual summary of the Course:
---