Immunologist of the Month
Every month we feature a new interview with an Immunologist. These Immunologists are at the cutting-edge of research and education, they have kindly offered to give us their time and insight into their research and studies.
January 2019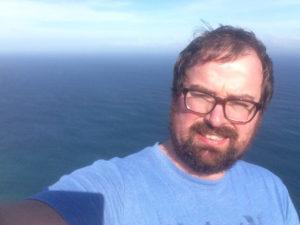 Our January Immunologist of the month is Lyle McKinnon from the University of Manitoba. Lyle did his PhD at the University of Manitoba focused on understanding HIV-specific CTL responses and HIV diversity under the supervision of Frank Plummer. His postdoctoral work was carried out at the University of Toronto on defining mucosal HIV target cells in the female genital tract, with Rupert Kaul. During his training he spent ~10 years in Nairobi, Kenya carrying out field research including epidemiological and immunological studies of high risk men and women. He then spent >3 years at CAPRISA in Durban, South Africa continuing his work in mucosal immunology in the context of HIV prevention trials in women.
Since 2015 he has been an Assistant Professor in the Department of Medical Microbiology and Infectious Diseases and Community Health Sciences at the University of Manitoba, with cross appointments at CAPRISA and the University of Nairobi. His research interests include understanding the causes and consequences of inflammation in the female genital tract, HIV target cells including those that home to the gut, and HIV transmission in men having sex with men in Kenya.
The Immunopaedia team conducted a written interview about Dr Lyle McKinnon highlighting his research interests in the field of HIV immunology and advice for early career scientists.
Read More – Lyle McKinnon Interview
---
Video Interviews
The Immunopaedia team conducts video interviews of influential immunologists as often as possible. These leading researchers speak to us on a variety of subjects and we record them for posterity.
Simon J. Draper Interview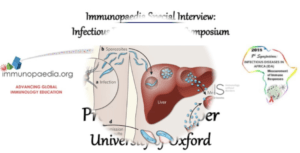 Simon J. Draper is Professor of Vaccinology and Translational Medicine, Wellcome Trust Senior Fellow and Jenner Investigator based at the University of Oxford. Simon received the Lister Institute Research Prize Fellow in 2018, an award aimed at researchers in the early years of running their own groups .
Simon heads the Blood-Stage Malaria Group based at the Jenner institute which focuses on the development of novel and improved approaches to blood-stage malaria vaccine design, as well as aiming to better understand mechanisms of vaccine-induced immunity to blood-stage malaria infection.
Simon was one of the faculty members at the 8th Infectious Diseases in Africa Symposium which took place in November 2018. The immunopaedia team was fortunate to interview him, discussing the current status of malaria vaccines.
Watch now: Simon Draper interview
---