January 2023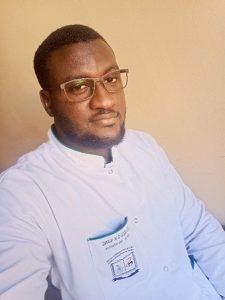 Doudou Georges Massar Niang is from Senegal, he fell in love with immunology during his third year of studying Pharmacy. He received his PharmD degree and his Masters in Immunology and Infection in 2018. Doudou became a PhD candidate in immunology at Cheikh Anta Diop University of Dakar in 2019. His research focuses on deciphering the breast cancer mechanisms of immune escape, identifying immunology-based prognostic biomarkers and potential therapeutic targets. Doudou has also trained in medical bacteriology, virology, parasitology, hematology, cytogenetics, and biochemistry during his 4 years as a resident in hospital laboratories.
Publications
1-Niang, DGM, Gaba, FM, Diouf, A, et al. Galectin-3 as a biomarker in breast neoplasms: Mechanisms and applications in patient care. J Leukoc Biol. 2022; 1- 12. https://doi.org/10.1002/JLB.5MR0822-673R
2-Niang, DGM. , Ka, S. , Hendricks, J. , Diouf, D. , Gaba, F. , Diouf, A. , Diop, M. , Mbow, M. , Faye, B. , Diallo, R. , Niang, M. , Deme, A. , Mbengue, B. and Dieye, A. (2022) Profile of Plasma Galectin-3 Concentrations, Inflammatory Cytokines Levels and Lymphocytes Status in Breast Cancer under Chemotherapy. Open Journal of Immunology, 12, 1-14. doi: 10.4236/oji.2022.121001.
3-Mbow M, Dieye PAB, Ba NK, Cisse M, Lo G, et al. (2021) Evaluation an immunofluorescence-based antigen test for hospital point-of-care diagnosis of SARS-CoV-2 infection. Clin Microbiol Infect Dis 6: DOI: 10.15761/CMID.1000192.
Why "I love immunology"
Immunology and history are my two passions, and the analogy I like to use is of cellular immune mechanisms in pathology being similar to medieval history 'heroes', in which immune cells defend their 'land' or the host at the cost of their lives. Moreover, immunology is a dynamic field with every day providing an exciting discovery and something new to learn. No way of getting bored!
If I wasn't an immunologist I would be
My dream was to become a professional basketball player. Otherwise, considering my background I would probably become medical biologist.
Tips for young people who want to enter the field of immunology
As young potential future immunologist you should:
acquire good knowledge about basic immunology
be curious and try as much as you can to stay up-to-date about your field of interest
write down and keep every research idea you have while reading
and get a passport ASAP, there are a lot of inspiring and life-changing people to meet in the immunology world!
What being an Immunopaedia Ambassador means to me
Being Immunopaedia ambassador is like belonging to a family of helpful people. Thanks to my activity as ambassador, I improved my writing skills. Moreover, I met immunologists that are significantly influencing my carreer and some of them become very close friends.
How I have contributed to Immunopaedia so far and plans for future contributions
So far, I have submitted breaking news articles and participated in the writing of Immuno-Tunisia 2021 pre-course materials. Moreover, I always encourage students in our institution to visit Immunopaedia for benefiting from valuable course materials and to subscribe to the newsletter to stay up-to-date with IUIS educational activities. In the future, I would like to submit more breaking news article related to cancer immunology and encourage more Senegalese immunologist to become Immunopaedia ambassador.
You can get in touch with me by
LinkedIn: Doudou Georges M. Niang
Twitter: @DoudouMassar