Introduction
Malaria causes between 300 million and 500 million clinical episodes worldwide and 0.5 million to 3 million deaths annually, disproportionally affecting immune naïve children under the age of 5 years living in sub-Saharan Africa.1 Malaria has evolved unique strategies to evade the host immune system and therefore be able to cause repeated and serious infections. The understanding of host immune responses to malaria and the immune evasion techniques malaria employs is vital to the development of an efficacious and safe vaccine which could prevent incredible morbidity and millions of deaths annually.
Epidemiology
Human malaria infection is caused by four protozoa species of the genus Plasmodium: P.falciparum, P. malariae, P. vivax, and P. ovalae. The preponderance of severe malaria and mortality are due to P.falciparum. Children living in endemic areas typically have a primary malaria episode during their first couple years of life, while most toddlers and juveniles have already developed some degree of resistance against severe disease but still experience periodic clinical episodes. African adolescents and adults, however, are often clinically immune; meaning they remain free of malaria symptoms, despite continuous parasite exposures. Adults in endemic areas maintain low-grade infections throughout the transmission season. Clinical immunity fails during pregnancy or after relocating to areas where malaria is not endemic. Life-long exposure to malaria parasites rarely leads to sterile immunity. In most cases, blood-stage infections remain detectable by sensitive methods, such as PCR, in all age groups.2, 3
Malaria Life Cycle
The life cycle of malaria is complex though well studied. The female Anopheles mosquito inoculates the host with 10 to 100 malaria sporozoites.4, 5 Within 30 minutes, those sporozoites not bound by previously formed antibodies, migrate to the liver where they invade and begin replicating in hepatocytes.6 Parasites not destroyed by cytotoxic T lymphocytes in the liver replicate for 2-10 days creating merozoites. Tens of thousands of merozoites are released from each hepatocyte into the host blood stream.7 Afterward, each merozoite is able to bind, invade, and infect erythrocytes. After red blood cell (RBC) infection, each merozoite matures to form a highly metabolically active trophozoite, which replicates asexually to become multinucleate schizonts. As the schizonts enlarge they rupture erythrocytes 48 hours after their formation which results in 20-30 new merozoites which continue the cycle.8 Some sexual forms of the parasite develop during this erythrocytic stage; these gametocytes are responsible for infecting the salivary glands of female Anopheles mosquitoes. The gametes mature into ookinetes then into an oocyst. The oocyst ruptures and releases sporozoites which can then infect another host during a blood meal.9
Pathophysiology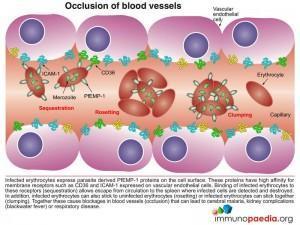 A person's first infection usually creates no symptoms for 7-10 days. During this latent period, parasite maturation occurs in the liver and parasites undergo a cycle of blood stage replication. Symptoms begin when the parasites undergoing an asexual blood cycle, reach threshold density sufficient to initiate the host's pathogenic immune response process. Fever, malaria's hallmark, is due to parasite-derived molecules released from ruptured host cells. These molecules activate host inflammatory cells, such as macrophages, which secrete pro-inflammatory pyrogenic cytokines such as interleukin (IL) -1 and tumor necrosis factor (TNF) –α. As parasites synchronize their replication cycles the fever becomes periodic. Splenomegaly results from massive reticuloendothelial system activation to clear parasitised erythrocytes. Anemia is a result of the phasic rupture of RBCs by mature schizonts. Parasitised erythrocytes circulate to the microvasculature where they bind to the scavenger receptor CD36 or the intercellular adhesion 1 (ICAM-1) and occlude microvessels.10-12 Inflammation caused by these parasite-receptor interactions and release of immune stimulatory molecules from infected RBCs upon rupture are thought to be responsible for organ specific pathology such as cerebral malaria13, renal failure (Blackwater Fever), and respiratory distress.
Host Immune Responses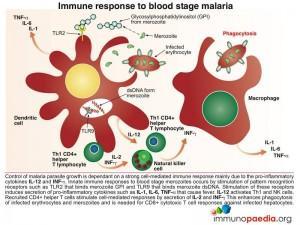 Many studies show that antibodies and T cells are vital to the development of a protective immune response against malaria infection.14, 15 Specific immune responses are required to defuse the infection at multiple points in the parasite life cycle. Antibody responses are induced during the sporozoite stage. Antibody bound sporozoites are prevented from invading hepatocytes. CD8+ T cells have been shown to be cytotoxic against maturing sporozoite infected liver cells.16 Both of these responses are potentially able to terminate the infection before the onset of clinical disease caused by the release of merozoites from hepatocytes and subsequent RBC invasion and rupture. CD4+ T cells are requisite for the production of merozoite neutralizing antibodies by B cells and the activation of macrophages which secrete interferon (INF) –γ to enhance parasitised RBCs. The host is also able to develop transmission-blocking antibodies directed to gametocyte specific antigens. These antibodies hinder the development of the parasite within the mosquito vector, thereby preventing further infections. Though this immune response is not particularly valuable to the infected host, it does assist in reducing population level transmission.17
Evasion Techniques to Host Immune System
Plasmodium sps. have developed numerous ways of evading the host immune system. Among the most intrinsic and primitive of these is intracellular parasitism. Neutralising antibodies are able to bind to exposed sporozoite or merozoite surface proteins. However, once within an erythrocyte, antibodies are no longer able to bind parasite surface antigens. Moreover, RBCs do not express surface MHC molecules which allow merozoites to evade recognition by CD8+ T cells.
Adherence to microvasculature
As briefly mentioned, the binding of the parasitised erythrocyte to the vascular endothelium may be responsible for much of the pathology seen in malaria infection. Perhaps this developed as a primary immune evasion strategy as parasites adherent to the microvasculature do not enter the spleen or liver where they would be snared and digested.18
Antigenic Variation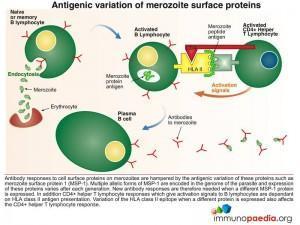 Another remarkably sophisticated immune evasion strategy involves antigenic polymorphisms and clonal antigenic variation. Antibodies and T cell receptors recognise, with astonishing precision, very specific pathogen derived epitopes. Resultantly, by parasites varying their allelic expression they are able to dodge host immune recognition. Parasite antigenic diversity involves the expression of numerous antigenically distinct alleles of a particular gene in different parasite populations, due to selection by immune pressure. Parasites expressing mutant alleles which create antigens not recognised by host antibodies and T cell receptors are free to selectively multiply. It has been documented that antigens which elicit strong immune responses often have extensive polymorphisms. An example of this is the merozoite surface protein 1 (MSP-1) which has numerous antigenically distinct forms.19, 20 It has been hypothesised that antigenic polymorphisms unduly affect T cell recognition because it depends on primary amino acid sequences rather than protein conformations, which antibodies recognise. Without T cell help, poor humoral responses are generated and the parasite persists within the host.
Many of the antigens recognised by the infected host are located in the RBC. However, Plasmodium falciparum erythrocyte membrane protein 1 (PfEMP1) is located on the surface of infected RBCs and therefore, accessible to circulating antibodies. PfEMP1 performs essential tasks for the parasite, such as endothelial binding. Since the malaria genome is haploid during the merozoite stage only one allele per locus is expressed at a given time. PfEMP1 is coded by the var gene which is present in greater than 50 loci on different chromosomes and differentially expressed between different loci during the blood stages.21 Due to this clonal antigenic variation, parasites are able to escape the primary antibody response targeted to one PfEMP1 by expressing the slightly different allele for the same protein from a different locus and show a second recrudescence, called antigenic distinct wave parasitemia.22
Tandem Repeats
Many malaria antigens, most of which are immunodominant B cell epitopes, are expressed in the form of tandem repeats. Many of these repeats show minor, but structurally significant polymorphisms which are not targets of protective immunity, affects affinity maturation, and subsequently mask critical protective epitopes. And, due to their tandem nature, these antigens cause activation of T cell-independent B cell responses by cross-linking surface immunoglobulins and hindering antibody formation to adjacent, though important, epitopes.18
Transmembrane Proteins
Malaria infected individuals show reduced immune responses to a variety of non-malaria antigens.23 Numerous immune evasion strategies are responsible for this phenomenon. To create a robust T cell response, antigens are loaded onto MHC molecules within antigen presenting cells (APC) and trafficked to the infected cell surface where the antigen-MHC complex interacts with T cell receptors and co-stimulatory molecules. The co-stimulatory signals are created by up-regulating transmembrane proteins which interact with complementary proteins on the T cell. The up-regulation of these co-stimulatory molecules is a result of APC maturation through signals received as a result of pathogen binding to common microbial pattern recognition proteins such as toll-like receptors (TLR).24 This maturation process is inhibited by the binding of PfEMP1 binding to CD36 on the surface of APC causing maturation arrest resulting in impaired T cell responses to many antigens, not only those of malaria.25
Immunosuppression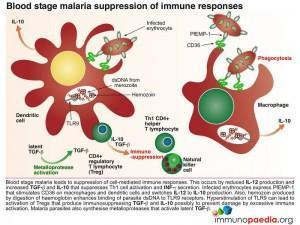 Interleukin 10 (IL-10) and transforming growth factor β (TGF-β) are cytokines which have a local and global suppressive effect on the host immune system. Patients with malaria have been shown to have high concentrations of these cytokines in their sera due to direct parasite induced secretion.26 TGF-β usually exists in a latent form activated by controlled proteolysis with proteases such as thrombospondin or calpain. Malaria secretes homologous proteins with metalloprotease activity which directly activate TGF-β.27 By either causing secretion of IL-10 and TGF-β or by cleaving inactive cytokines, malaria commandeers the host immune cascade to exert globally suppressive effects.
Regulatory T cells
Regulatory T cells (Treg) are a subclass of the CD4+ cell line. Tregs co-express CD25, the IL-2 α chain, and have a fundamental role in maintaining self tolerance by regulating autoreactive T cells.28 In mice, Tregs have been shown to be involved in the suppression of the immune response to malaria parasites as a result of hyperstimulation of TLR9 receptors in macrophages and dendritic cells during the blood stage of infection .30 It is thought that hyperstimulation of toll-like receptors activates Tregs in order to suppress an excessive immune response to avoid damage by inflammatory mediators. Tregs secrete immunosuppressive cytokines IL-10 and TGF- β causing suppression of Th1 cells. Also macrophages and dendritic cells switch from secreting IL-12 to IL-10. The blood stage of malaria infection generates a large quantity of hemozoin byproducts resulting from merozoite degradation of hemoglobin. In macrophages and dendritic cells, hemozoin has been shown to enhance dsDNA stimulation of TLR9 receptors following phagocytosis of infected erythrocytes. As a result of the large numbers of infected erythrocytes that are engulfed by phagocytes during the blood stage, regulatory T cells become activated and suppress cell-mediated immune responses. This suppression also affects CD8+ cytotoxic T lymphocyte responses to infected hepatocytes.
Conclusion
These and yet to be discovered mechanisms for which malaria is able to evade the host immune system and contribute the parasite's pathogenicity, ability to cause repeated severe infections, and transmission. A great deal of work has gone into understanding the fundamental processes which regulate the aforementioned mechanisms with hopes to design a broad and efficacious malaria vaccine. Many candidates for such a vaccine have failed as a result of these immune evasion strategies. As our knowledge on the subject increases, as does our chance of developing a successful candidate to end or attenuate the devastating effects of malaria infections worldwide.
References
Guerin, P.J. et al. (2002). Malaria: current status of control, diagnosis, treatment, and a proposed agenda for research and development. Lancet Infect Dis. 2(9): p. 564-73.
Ferreira, M.U et al. (2004). Antigenic diversity and immune evasion by malaria parasites. Clin Diagn Lab Immunol. 11(6): p. 987-95.
May, J., et al. (1999). High rate of mixed and subpatent malarial infections in southwest Nigeria. Am J Trop Med Hyg. 61(2): p. 339-43.
Rosenberg, R., et al. (1990). An estimation of the number of malaria sporozoites ejected by a feeding mosquito. Trans R Soc Trop Med Hyg. 84(2): p. 209-12.
Ponnudurai, T. et al. (1982). Mosquito transmission of cultured Plasmodium falciparum. Trans R Soc Trop Med Hyg . 76(2): p. 278-9.
Ferreira, M.U., et al. (1998). The IgG-subclass distribution of naturally acquired antibodies to Plasmodium falciparum, in relation to malaria exposure and severity. Ann Trop Med Parasitol. 92(3): p. 245-56.
Nardin, E.H.et al. (1993). T cell responses to pre-erythrocytic stages of malaria: role in protection and vaccine development against pre-erythrocytic stages. Annu Rev Immunol, 1993. 11: p. 687-727.
Nardin, E.H., et al. (1982). Circumsporozoite proteins of human malaria parasites Plasmodium falciparum and Plasmodium vivax. J Exp Med. 156(1): p. 20-30.
Inselburg, J. (1983). Gametocyte formation by the progeny of single Plasmodium falciparum schizonts. J Parasitol. 69(3): p. 584-91.
Aitman, T.J., et al. (2000). Malaria susceptibility and CD36 mutation. Nature. 405(6790): p. 1015-6.
Jenkins, N., et al. (2007). Plasmodium falciparum intercellular adhesion molecule-1-based cytoadherence-related signaling in human endothelial cells. J Infect Dis. 196(2): p. 321-7.
McCormick, C.J., et al. (1997). Intercellular adhesion molecule-1 and CD36 synergize to mediate adherence of Plasmodium falciparum-infected erythrocytes to cultured human microvascular endothelial cells. J Clin Invest. 100(10): p. 2521-9.
Miller, L.H., et al. (2002). The pathogenic basis of malaria. Nature. 415(6872): p. 673-9.
Abdel-Latif, M.S., et al. (2003). Antibodies to Plasmodium falciparum rifin proteins are associated with rapid parasite clearance and asymptomatic infections. Infect Immun. 71(11): p. 6229-33.
Good, M.F. et al. (1998). Pathways and strategies for developing a malaria blood-stage vaccine. Annu Rev Immunol. 16: p. 57-87.
Hoffman, S.L., et al. (1989). Sporozoite vaccine induces genetically restricted T cell elimination of malaria from hepatocytes. Science. 244(4908): p. 1078-81.
Snewin, V.A., et al. (1995). Transmission blocking immunity in Plasmodium vivax malaria: antibodies raised against a peptide block parasite development in the mosquito vector. J Exp Med. 181(1): p. 357-62.
Hisaeda, H., K. et al. (2005). Malaria: immune evasion by parasites. Int J Biochem Cell Biol. 37(4): p. 700-6.
Qari, S.H., et al. (1998). Predicted and observed alleles of Plasmodium falciparum merozoite surface protein-1 (MSP-1), a potential malaria vaccine antigen. Mol Biochem Parasitol. 92(2): p. 241-52.
Burns, J.M., Jr., et al. (1989). A protective monoclonal antibody recognizes a variant-specific epitope in the precursor of the major merozoite surface antigen of the rodent malarial parasite Plasmodium yoelii. J Immunol. 142(8): p. 2835-40.
Smith, J.D., et al. (1995). Switches in expression of Plasmodium falciparum var genes correlate with changes in antigenic and cytoadherent phenotypes of infected erythrocytes. Cell. 82(1): p. 101-10.
Flick, K. et al. (2004). var genes, PfEMP1 and the human host. Mol Biochem Parasitol. 134(1): p. 3-9.
Williamson, W.A. et al. (1978). Impairment of the immune response to vaccination after acute malaria. Lancet. 1(8078): p. 1328-9.
Takeda, K. et al. (2003). Toll-like receptors. Annu Rev Immunol. 21: p. 335-76.
Urban, B.C., et al. (1999). Plasmodium falciparum-infected erythrocytes modulate the maturation of dendritic cells. Nature. 400(6739): p. 73-7.
Ocana-Morgner, C. et al. (2003). Malaria blood stage suppression of liver stage immunity by dendritic cells. J Exp Med. 197(2): p. 143-51.
Omer, F.M. et al. (2003). Differential induction of TGF-beta regulates proinflammatory cytokine production and determines the outcome of lethal and nonlethal Plasmodium yoelii infections. J Immunol. 171(10): p. 5430-6.
Shevach, E.M. et al. (2002). CD4+ CD25+ suppressor T cells: more questions than answers. Nat Rev Immunol. 2(6): p. 389-400.
Hisaeda, H., et al. (2004). Escape of malaria parasites from host immunity requires CD4+ CD25+ regulatory T cells. Nat Med. 10(1): p. 29-30.
Hisaeda, H., et al. (2008). Malaria parasites require TLR9 signaling for immune evasion by activating regulatory T cells. J Immunol, 180: 2496-2503.
Barclay Stewart
Medical University of South Carolina
Fogarty International Clinical Research Scholar
Nairobi, Kenya