Interplay between innate, adaptive and mucosal immune responses to vaccines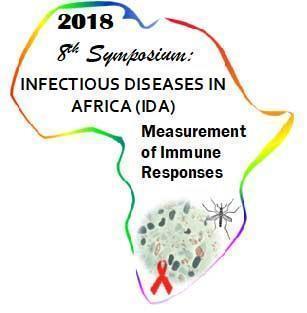 The 8th Infectious Diseases in Africa (IDA) Symposium aims to provide a forum opportunity for young investigators to meet and discuss their finding with renowned scientists and learn about the most recent findings in infectious diseases in Africa.
The IDA Symposium will cover how innate and adaptive immune responses are engaged by vaccine candidates to provide protective immune responses at either or both mucosal and systemic levels.
International experts in the field of mucosal, cellular, humoral and innate immune responses will present their latest findings. Panel discussions will facilitate discourse amongst course participants during their oral and poster presentations.
Integrated into the daily activities of the course will be interactive grant writing sessions as well as poster and oral presentations workshop.
There is no registration fee for African students and travel and accommodation will be covered.
Venue: River Club, Cape Town
Dates: 12-17th November 2018
Application deadline: 17th August 2018
Click here to view the Faculty List
Dr. Erica Andersen-Nissen (Cape Town HVTN Immunology Laboratory, a division of HCRISA and Fred Hutchinson Cancer Research Center-Cape Town, South Africa)
Dr. Gama Bandawe (Malawi University of Science and Technology, Thyolo-MW)
Dr. Michael Betts (University of Pennsylvania, Philadelphia-USA)
Dr. Simon Draper (Oxford University, Oxford-UK)
Dr. One Dintwe (Cape Town HVTN Immunology Laboratory, a division of HCRISA and Fred Hutchinson Cancer Research Center-Cape Town, South Africa)
Dr. Guido Ferrari (Duke University Medical Center, Durham-USA)
Dr. Clive Gray (University of Cape Town, Cape Town-SA)
Dr. Thomas Hope ( Northwestern University, Chicago-USA)
Dr. Kondwani Jambo (Malawi-Liverpool-Wellcome Trust Clinical Research, Blantyre-MW)
Dr. Heather Jaspan (University of Washington, Seattle-USA and University of Cape Town, Cape Town SA)
Dr. Richard Koup (Vaccine Research Center-NIH, Bethesda-USA)
Dr. Michael A. Moody (Duke University Medical Center, Durham-USA)
Dr. Penny Moore (National Institute for Communicable Disases, Johannesburg-SA)
Dr. Henry Mwandumba (Malawi-Liverpool-Wellcome Trust Clinical Research, Blantyre-MW)
Dr. Lishomwa Ndhlovu (University of Hawaii-USA)
Dr. Elisa Nemes (University of Cape Town, Cape Town-SA)
Dr. Mario Roederer (Vaccine Research Center-NIH, Bethesda-USA)
Dr. Thomas Scriba (University of Cape Town, Cape Town-SA)
Applications Closed